May Day is Flower Day in Hawaii Nei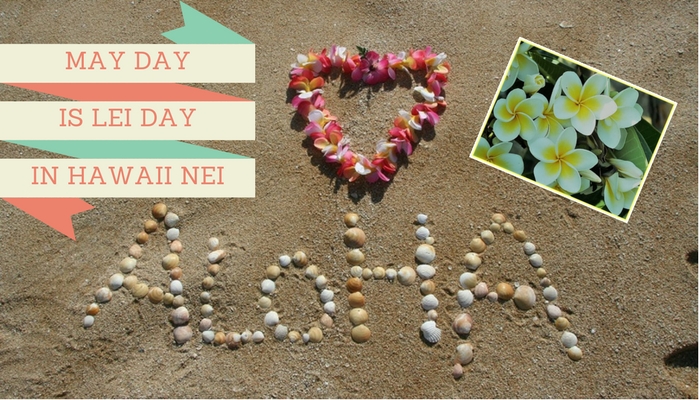 The 1st of May is traditionally called May Day. In many Northern Hemisphere countries it is a celebration of warm days heading into Summer. It is a seasonal celebration for the most part but in some countries it can also be a workers' rights day. In Hawaii May Day takes on a unique and beautiful custom centered around flowers and, in particular, the Hawaiian Lei as shown in the picture above.
"May Day is Lei Day in Hawaii Nei" translates to "May Day is Lei Day in our beloved Hawaii." The lei is usually a circular flower ornament worn around the neck, head or wrist which in ancient times represented beauty or a distinguished individual. In modern times the lei is often given during achievements in one's life (graduation etc.) and memorable events. Travelers to the Hawaiian islands are often greeted with one as well as those returning to their "nei" (beloved) homeland from abroad.
The most commonly used flowers in the lei flower arrangement / ornament are plumerias, tuberose, carnations, orchids and pikake. However, leis can also be made of beautiful leaves worn around the neck or waist by Hula dancers. Please come check out one of the May Day celebrations on Oahu and remember to say, "May Day is Lei Day in Hawaii Nei!"
5/1 90th Annual Lei Day Celebration Kapiolani Park 9 AM to 5.30 PM Free | Music starts off at 9AM with the Royal Hawaiian Band and continues with various Hawaiian artists throughout hte day. Lei contest exhibit is open to the public from 1 PM. Also visit Kulana Lei which is a village in Kapiolani Park of Hawaiian artisans showcasing their talents and skills with various demonstrations throughout the day. This is one May Day celebration you cannot miss!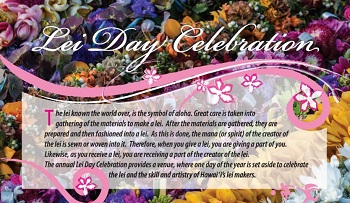 5/1 May Day Waikiki: Beachboys, Memories & Music Royal Hawaiian Beach 2 PM to 5 PM Free | In commemoration of the Waikiki Beachboys known as the "Ambassadors of Aloha" who are attributed with exposing the world to surfing and canoe paddling. Festivities start with a Hula show and later a music performance by Henry Kapono. It all ends in the evening with a Party at Dukes Waikiki.
5/5 First Friday Art Walk Chinatown Area 5PM to 9PM Free | This event takes place the first Friday evening of every month. Neighborhood merchants including art galleries keep their doors open until 9PM with many offering food and drink to visitors. Dont miss this fun night time event in Chinatown Honolulu!
5/6 25th Annual Filipino Fiesta & Parade Fort de Russy and ends at Kapiolani Park – 9 AM to 5 PM – Free | Have fun with the Filipino Community in Hawaii with a fun filled day featuring Miss Filipina Hawaii, marching bands and floats as they march their way to Kapiolani Park. Check out Filipino culture and food from one of the many booths.
5/6 – Waimea Valley Moon Walk Waimea Valley 8PM to 10PM $29.95 Adults & to $12.95 Child | Price includes buffet dinner at the Proud Peacock Food catered by Ke Nui Kitchen. See Hawaii nature come alive at night!
5/6 Sea Life Park Twilight Concert Series Makapuu Point 5PM to 11PM $49.95 Adult (1 Child FREE for every adult purchased) | Concert features performances by Anuhea, Makaha Sons, Kapena, and Paula Fuga. Enjoy the afternoon at the Sea Life Park from 12PM (entrance included with concert ticket holders) and stay thru the evening for a memorable performance from these great artists.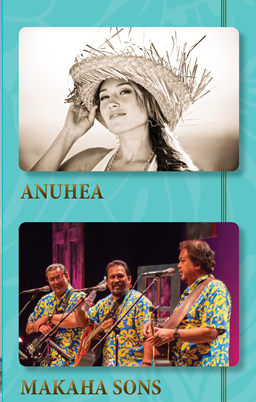 5/7 31st Annual Duke Kahanamoku Beach Challenge Duke Kahanamoku Beach, Waikiki 9 AM to 2 PM Free | Come participate or just watch the various competitive water races and beach games which include canoe racing, paddle boarding and tug-of-war games. Hosted by the Hilton Hawaiian Village Resort.
5/1 thru 5/30 Royal Hawaiian Band Various Locations & Times throughout the month, check calendar in the above link Free | The Royal Hawaiian Band is the only band in the US with a royal legacy, It was founded in 1836 by King Kamehameha III. The bands mission is promote music while preserving Hawaiian musical culture and fostering young musicians.
5/14 Mother's Day Bruch at Waimea Valley Waimea Valley 10AM & 12PM $49.95 Adult & $25.95 Children | This Mother's Day Brunch will be catered by Ke Nui Kitchen. Performances by Na Wahine o Ka Hula Mai Ka Pu'uwai during the brunch. It includes a Free Admission into the Valley. Come treat your Mom to a special brunch on Mother's Day!
5/19 & 5/20 Maoli Arts Movement (MAMo) SALT at Our Kakaako 5 PM to 9 PM Free | Come check out these native Hawaiian arts including entertainment and a little fashion show!
5/21 Honolulu Ekiden & Music Kapiolani Park 5.30 AM to 11 AM $30 to $100 | This is Japanese style of long distance relay with the purpose of building stronger ties between Japan and Hawaii. Race starts and ends in Kapiolani Park with the concert starting at 5 PM at the Waikiki Shell. If you can't make the race at least come for the concert in the evening!
5/26 to 6/25 50th State Fair Aloha Stadium Various Times, check schedule in link above $5 for Admission Only, rides cost extra | Come join the fun, games and rides at this State Fair carnival including plenty of food booths to satisfy your fun filled hunger!
5/29 – Lantern Floating Hawaii – Ala Moana Beach Park – Afternoon & 6 PM | Come to the Ala Moana Beach Park in the afternoon and listen to Pu, Hawaiian conch shell, Taiko drums, Oli Hawaiian chant along with Hula culminating with 1,000s of candlelit lanterns placed onto the water.