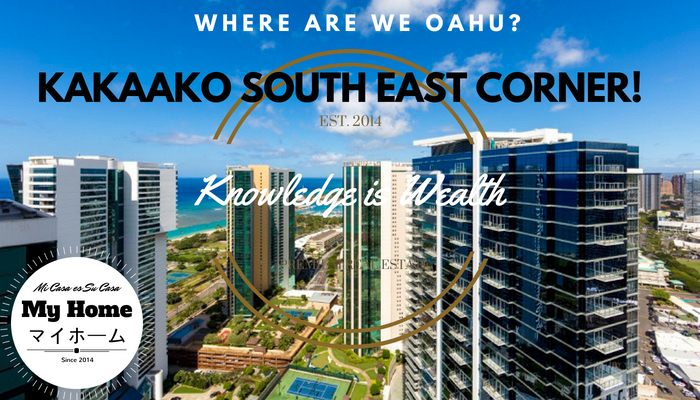 Knowledge is Wealth!
So would be a time machine that takes you back to 1980 to see your grandparents. In an imaginative journey you take 5 X one ounce gold eagle coins with you, exchange them for 1980 $s and then proceed to buy 225 shares of Apple stock for $22 each (total investment of $4,950) and then have your grandparents create an irrevocable trust fund with you as the sole beneficiary with the plan to let the whole 225 shares ride for 38 years!  Then "back-to-the-future" it to 2018 to be an instant millionaire worth $2,211,125, ready to pay cash for that ultra-luxury, ocean view condo in Kakaako! Keep in mind this assumes that your grandparents did not become so rich from your Apple stock tip that they soon divorced and you were never born in the first place!
In this "Hot Summer" Issue of the Hawaii Damon Newsletter I would like to focus on an area of Kakaako that is already developed but has been somewhat shunned in the last few years – passed over for the younger and sexier buildings centered around the Ward Village Development which Architectural Digest has called "The Best-Planned Community in the US"( See Hawaii Damon Newsletter – August 2017). I specifically call this moderately "passed over" area of Kakaako – with prices remaining somewhat flat in the last few years – the SE (South East) Corner. It borders Ala Moana Blvd and the ocean to the South, Piikoi St and Ala Moana Mall to the East, Queen St and Ward Village to the West(click to expand to Google Maps):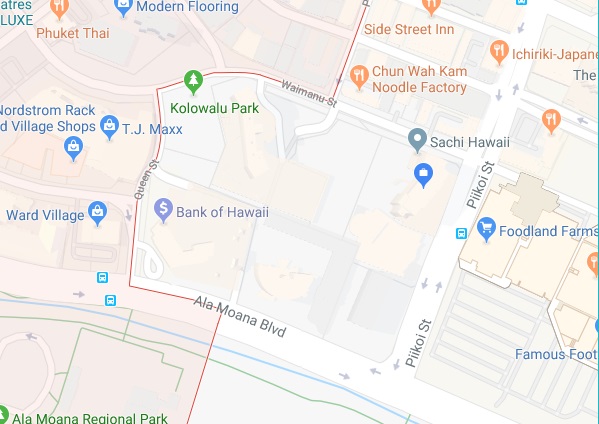 There are 6 buildings in the SE Corner of which I will specifically showcase 4 of them in the main article here and also briefly mention the other 2. I am covering Kakaako SE Corner now because I think there are good reasons why these 6 kids on the bigger Kakaako block may start to become attractive & popular again – perhaps appreciating in value faster than the average*. They are all considered luxury condo buildings for the most part and most units in these buildings have ocean views. In order by median price of units currently on the market as of this writing we have:
1) Hokua – $2.69M
2) Waihonua – $1.42
3) Koolani – $1.343M
4) Nauru Tower – $1.107M
5) Hawaiki Tower – $950K
6) 1350 Ala Moana – $715K
Before delving into the details of each of these buildings, let's first consider some new developments in Ward Village that could fundamentally impact the Kakaako SE Corner. When the main area of Kakaako first started to develop it felt as if a tide of luxury condo money was getting sucked under your feet like sand all the way from Kahala-Diamond Head & Waikiki Beach thru Ala Moana into the Kakaako area with Ward Village's Anaha & Waiea Buildings along with Park Lane Ala Moana as the new depository of a massive amount of the tide and sand $s. There is no doubt this tide was so strong it depleted a lot of the $s that would normally find their way to the luxury single family home areas of Kahala and Hawaii Loa Ridge etc. With the upcoming "Gateway" towers it was expected the diverted flow of luxury$s would continue unabated.
NEWSFLASH! The ultra-luxury condo party comes to an end with Ward Village announcing indefinite suspension of the Gateway towers project. What happened? From an economist's perspective it is simply a matter of Supply and Demand. There is no doubt the Ward Village planners were looking at the 17 months of resale inventory in Waiea (a neutral market is 5 to 6 months of inventory so 17 months would represent an extreme Buyers' Market i.e. too much Seller Supply and not nearly enough Buyer Demand). Going ahead with Gateway would have probably sent the current 17 months of inventory soaring even higher in Waiea. Further evidence also points to a Waiea ultra-luxury condo oversupply with a current on the market median price of $4.402M whilst he median price of units actually sold in Waiea in the last 12 months was only $3M (Translation: The market for $3M – $5M luxury condos is supersaturated). A super high tide of ultra-luxury condo supply is what we have now which will probably and naturally abate with time. Building Gateway (for now) would have created a flood, something to avoid at all costs (This is what the economist in this author surmises as being the case – certainly not too far from the actual true story).
Fortunately, the rest of Ward Village is moving full steam ahead to fulfill its destiny of becoming the "The Best-Planned Community" in the world. In place of the Gateway Towers a landscaped and elevated walkway is planned that will go over Ala Moana Blvd connecting the Village to Kewalo Basin thereby also giving access to Ala Moana Beach Park. There is no doubt that Ward Village (and its within-walking-distance neighbor Kakaako SE Corner – the main focus of this month's newsletter) will be fantastic places to live now and in the long term future. On a positive note for some buyers, some bargains can be found in the ultra-luxury condos in Kakaako (assuming such buyers are working with a Realtor skilled in negotiating prices).
Returning back to the subject of Kakaako SE Corner – What happens now with the flow of the luxury tide $s? As with the ocean, the water ebbs and then flows back again. In the same way, this author believes the SE Corner of Kaakako will be the first to feel the flow of luxury condo $s returning back towards the Waikiki direction again (Kahala and Diamond Head may even get some small part of its sand $s back). There are other buildings which may also feel the flow of $s returning (Watermark, Allure, Harbor Court etc.), too many to cover here. However, please feel free to contact me to discuss. Now let's have a look at our kids on the SE Corner of Kakaako block in order of luxurious exuberance: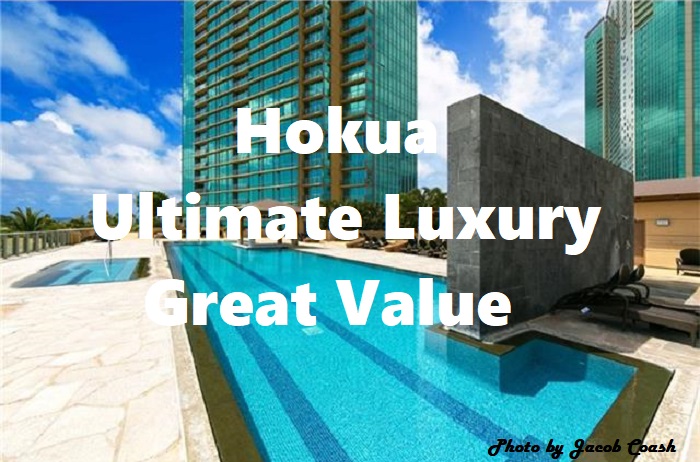 Hokua – Built in 2006, most people when visiting this building and its beautiful condos walk away thinking it is the most luxurious condo building with the loveliest ocean views on the planet. It just has to be – until, of course – they visit Waiea and Anaha in Ward Village which seem to be on another plane of luxurious existence all together. Regardless, Hokua is still the ultimate in luxury and still in a class of its own even though it may be just a notch or two down from Anaha & Waiea with their newer and sexier designs, amenities etc. However, Hokua also gives you a guaranteed front row seat to the ocean (Ala Moana Beach Park is in front of it) and with an median price of $2.69M (active on market) and 2.425M (sold in last 12 months), it may seem expensive but when you break it down to $s per SQF an A unit in Hokua is about half the price as an A unit in Waiea! Hokua's current inventory is 16.6 months which puts it in a super Buyers' Market territory (neutral market would be 5-6 months inventory whilst below that would be a Sellers' Market). For a great value luxury condo in this class, Hokua is now certainly at the top of the list (please see the next Great Value Luxury column in this newsletter where I also cover a unit in the Hokua). Click here for actual stats data.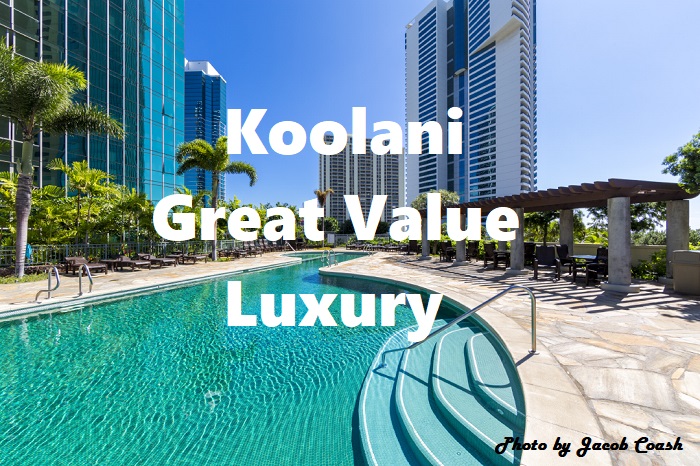 Koolani – Built in 2005, this building affords a comparable class of luxuriousness as the Hokua with the exception of having a 2nd row seat to the Ala Moana Beach Park and ocean. This being said, the 2nd row has fantastic view corridors of the ocean between and outside of the Hokua and Nauru Tower buildings. With Koolani and Hokua being on a similar level of luxuriousness, the question then comes down to how much $s per SQF would you be willing to pay to have a front row seat? I shall let you be the judge of that. Koolani currently has a median price of $1.139M (active on market) and 1.025M (sold in last 12 months). The average $s per SQF sold in the Koolani is $855 (last 12 months) whilst that of the Hokua is $1,652 which is almost double! The market is telling us a front row seat is worth double the price of a front row seat (on a $ per SQF basis). What do you think? (If seriously considering an investment here, please contact me, I would be more than happy to take you on a tour, consider this question with you and then you can decide for yourself!*) Click here for actual stats data.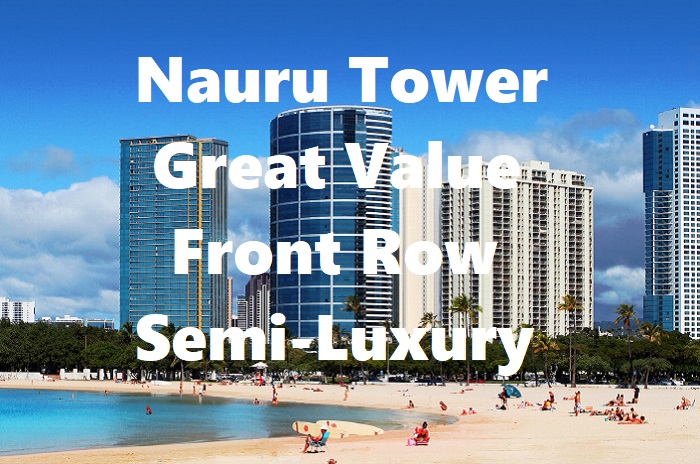 Nauru Tower – Built in 1990, this semi-cylindrical shaped building is iconic and as with the Hokua, has a front row seat to Ala Moana Beach Park and the ocean featuring 180° panoramic views from most of its units. Because of the curvature of the building and all the glass windows you feel as if you are in the Sea Life Park looking thru the curved plexiglass at the ocean and waves – a very unique perspective! Admittedly the Koolani and Hookua are on an entirely different level of luxurious exuberance in comparison to Nauru Tower. However, the latter comes with enough sophistication and amenities to satisfy most. The question now becomes how much luxuriousness would you trade to be on the front row compared to, say, the Koolani? Nauru Tower currently has a median price of $1.108M (active on market) and $1.063M (sold in last 12 months) with 6 months of inventory making it neutral market territory (neither Buyers' nor Sellers' have the upper hand). The average $s per SQF sold in Nauru Tower is $904 (last 12 months) which is $49 or just about 5% more than the Koolani. The trade-off between front row semi-luxury and 2nd row luxury is a close call! Which would you choose? Another factor which you may want to consider is the $/SQF maintenance fees where Koolani runs about $.82/SQF vs $1.17 for Nauru – approximately 30% more. It looks like luxury in the Koolani costs quite a lot less than semi-luxury in Nauru Tower. What's the value of my front row seat? (Again, if seriously considering an investment here, please contact me, I would be more than happy to take you on a tour, consider this question with you and then you can decide for yourself!*) Click here for actual stats data.
1350 Ala Moana – Built in 1968, this is definitely the poor, scruffy and oldest kid on the block! However, it happens to be one of my favorite from a pure investment perspective. The scruffy kid also just got some new clothes and a make-over (spalling maintenance with a brand new paint job) has made this old duck look like a spring goose. Owners of these units are remodeling at a steady pace throughout this building with the active on the market price differential – between original and remodeled units – running around $90K. Remodeled units are looking quite luxurious though, in general, on a sub level compared to, say, Koolani or Hokua. 1350 Ala Moana currently has a median price of $715K (active on market) and $767K (sold last 12 months). The average $s per SQF sold in this building works out to be $788 per SQF and the maintenance fee calculates out to be approximately $1 per SQF (including the covered lanai). It has 4.36 months of inventory putting it in a Sellers' Market. Math Quiz: Given the median prices how many of these could you get in a trade for 1 Koolani (A unit) or 1 Hokua unit? Answer: That would be approximately 2 units and 3 units, respectively! It's a conundrum again but I suppose if you were a poor surfer and were only able to get 1 gold coin back to 1980, purchase 45 shares of Apple stock, "back-to-the-future" it to 2018 – it would definitely be Surf's Up Brah! (Cowabunga! in California old surfer slang) A literal lap-in-ocean luxury being just a couple minutes walk from your building door to some of the best surfing on the South Shore at the Ala Moana Beach Park. (Again, if seriously considering an investment here, please contact me, I would be more than happy to take you on a tour, help you decide which building would be right for you!*) Click here for actual stats data.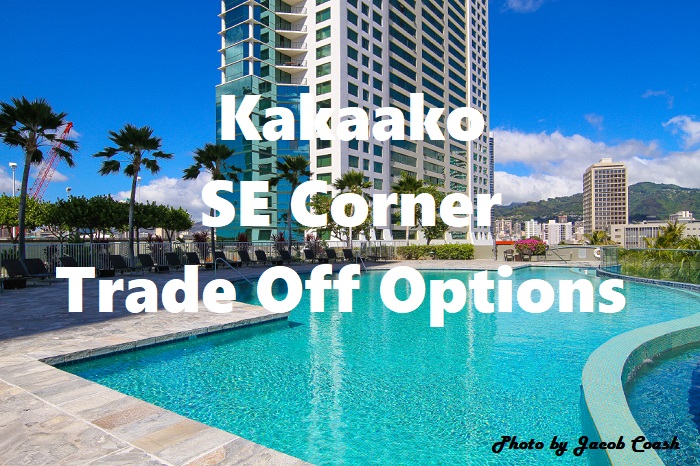 Waihonua and Hawaiki Tower – I will not delve too much into these two in this main article (lobby floor of the latter is the home of my office at Sachi Hawaii – come visit me!). Needless to say, it is not because they do not deserve mention here. It is because they do prominently take a seat in the Kakaako SE Corner Market Matrix of Luxurious Exuberance X Front Row/Ocean View X Age X Price X Lifestyle X Personal Preferences X Affordability (how many gold coins you were able to take back with you in your time warp travel to 1980 to purchase Apple stock!). It's a big matrix but with some careful planning and some help – hopefully from a very good and wise Realtor – to put it all into a cohesive perspective, the matrix can become a simpler decision making mechanism. It is really a matter of trade-offs and how much you can afford. Which are my personal favorites? The surfer (and miser economist!) in me is telling me 1350 Ala Moana and Koolani look good especially from a CAP Rate and possible future price appreciation perspective. However, all 6 buildings are unique and great purchase prospects depending on your lifestyle needs and priorities e.g. a two minute walk to the waves would be a priority for me but not necessarily for you. To be clear, I am endorsing all 6 buildings in the Kakaako SE Corner and would be more than happy to help you find the one just right for you – please do not hesitate to contact me or drop by my office, Sachi Hawaii, on the first floor of Hawaiki Tower in Kakaako SE Corner.
Conveniently located between Ward Village and Ala Moana Mall across from the Ala Moana Beach Park – in terms of the old adage "location, location, location" – the SE Kakaako is sure to be a coveted place to live now and in the future and thus possibly making it a great investment*. Click here for actual stats data.
Knowledge is Wealth!
Aloha!
Damon Rhys
*Disclaimer: Any opinions expressed in this newsletter are that of Damon Rhys only and do not necessarily reflect the views of his brokerage firm, Sachi Hawaii Pacific Century Properties. Though knowledgeable including Management Science / Quantitative Economic Decision Science & Master (MPIA) Degrees from the University of California, Damon Rhys is a licensed Realtor in the state of Hawaii. He is not a licensed Financial Advisor. For any specific investment decisions, it is advised that one consults with a licensed financial advisor. Sachi Hawaii legal counsel has advised Damon Rhys to include this disclaimer on his newsletters and blogs. Common sense should always prevail -fair advised and fair warned!