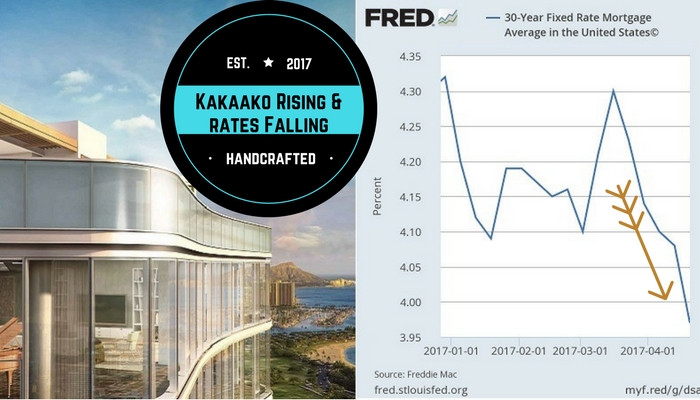 Aloha!
Centered around the Ward Village and extending all the way to Park Lane Ala Moana, the Kaka'ako-Ala Moana corridor is booming with new condominium projects. Also, we are actually seeing mortgage interest rates falling again. What happened? Isn't the US Fed Raising Rates? I'll cover these two topics in this month's Hawaii Damon Newsletter.
First, let's talk about interest rates. In my December Newsletter – Hawaii Market Projections for 2017 – when the 30 Yr Fixed Avg. Mortgage Rates climbed to 4.13%, I predicted rates would decrease ("meander") again to around 4% during Q1 2017. As of this writing, just at the beginning of Q2, the Avg. 30 Yr Fixed has now dropped to 3.97%. I would like to further follow up and add to my prediction that we may get below 3.8% before Q2 ends. How could mortgage interest rates be falling when the Fed just raised the Fed Funds Rate twice for a total of .5% in Dec 2016 and March (last month)? The answer to this question is that the US Fed Funds Rate is only part of the story. In the long term it is true that Home Mortgage Interest Rates follow the Fed Funds rate. However, in the short to medium term, they are much more influenced by the 10 Yr Treasury (Bonds) Rates which, at times, can cause a lot of volatility (wide swings both up and down) in the Home Mortgage Rates market. Please refer to the following graph which exemplifies this phenomenon:(click graph to expand)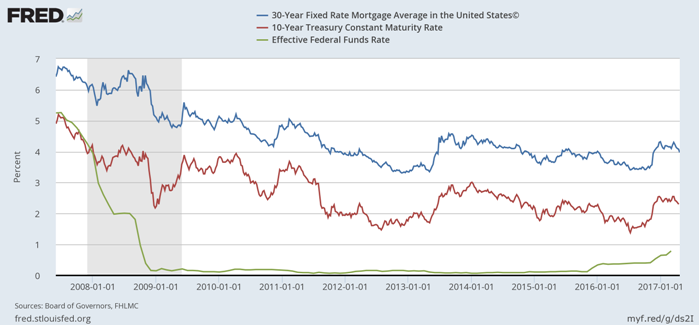 (Freddie Mac, 30-Yr Fixed Rate Mortg. Avg., Fed Reserve Bank – St.Louis – Grey area shows recession)

The green line is the Fed Funds Rate which the Fed basically flat-lined to close to zero as a result of the 2008-2009 Great Recession until Dec. 2015, the first hike in over a decade, and now Mar 2017 where it has reached .75% (historically this is still very low). The blue line is the Avg. 30 Yr Fixed (Mortgage) and the 10 Yr Treasury (Bond) is in red. One can see how closely they follow one another with a differential spread of approximately 1.8% which represents the premium demand between 10 Year Treasury (almost risk-free financial instrument) and the 30 Yr Fixed Mortgage Rate (carries some risk) by investors.
In conclusion – Some of the stock market euphoria from the Trump election has now waned (as was predicted – please see my Feb Newsletter covering "Trumponomics"). The markets are now settling causing a higher demand for Treasury Bonds in turn raising their prices but at the same time lowering yields (bond prices and yields are inversely related) causing Average Home Mortgage Interest Rates to decrease.
The take-away – Interest Rates will most likely start to creep back up again in the latter half of the year. Therefore, think of this as the final opportunity to re-fi or buy a home at historically super-low interest rates. Regardless, longer term and for various reasons discussed in previous newsletters, I believe we have entered a new economic paradigm where interest rates will probably top out below 6% (historically a low top) during this economic cycle.

_____________________________________________________
Kaka'ako to Ala Moana Corridor Rising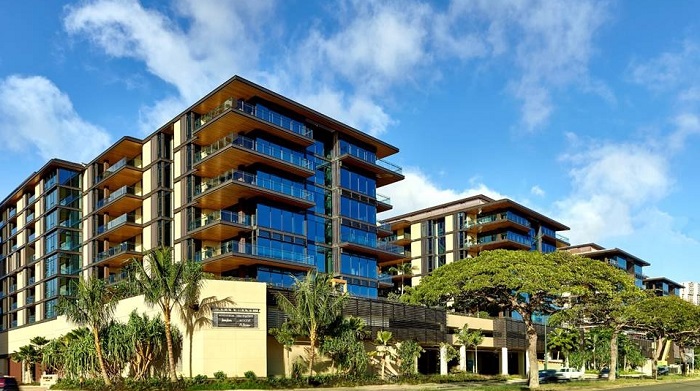 (Park Lane Ala Moana – South-West Corner Frontal View)

Prices for condos as well as homes in Hawaii have continued to increase unabated (see Apr 2017 Stats) with Hawaii property values reaching almost 3 times higher than the national US average. It is all about demand and supply and according to the Hawaii State Department of Business, Economic Development and Tourism, Hawaii will need approximately 65,000 new housing units by 2025 based on current population and visitor growth and vacancy rates. This breaks down to approximately 25,850 new units needed for the Honolulu/Oahu area alone. According to the Executive Director of the University of Hawaii Economic Research Organization, Hawaii is now at record lows for new home building.***
The Kaka'ako Area is undergoing some major surgery the likes of which will transform the area from an ugly duckling to perhaps the most beautiful urban area in the US and the world for that matter. The area is centered around Ward Village – in and around of which are 11 new buildings in various stages of construction – mostly luxury condos. The general Kakaako new construction area ends on the East side at the ultra-luxurious low-rise Park Lane Ala Moana. I recently had the privilege to tour the latter and must admit it is a feat of construction almost rivaling one of the 7 Wonders of the World (with no doubt prices to match but worth it if you can afford it!). Though the main entrance/lobby and pool area is actually located on the 5th fl., the lush foliage spread over such a wide area makes you feel as if your feet must walking on terra firma. The following are links to some of the buildings under various stages of construction in the Kakaako to Ala Moana area: (for more info and pricing please contact me, Damon Rhys or E-Mail)
Park Lane Ala Moana (mostly completed – move-in April 2017 for South-West Section)
Ward Village:
Waiea (completed)
Anaha (scheduled for completion in 2017)
Ae'o (scheduled for completion Q4 2018)
Ke Kilohana (scheduled for completion Q1 2019)
Gateway Towers (scheduled for completion Q4 2019)
Other:
Symphony Honolulu (completed)
The Collection (completed)
The Block 803 Waimanu (affordable housing)
Keauhou Place (scheduled for completion early 2018)
Kapiolani Residence (scheduled for completion mid 2018)
In conclusion – The Kakaako Area including all of the above will create around 4,000 housing units to be completed in the near future – mostly luxury condos. In the Kapiolani corridor there is another planned 4,000 units projected to be built many of which will be priced in the median range – Hawaii Ocean Plaza and Hawaii City Plaza to just name two (please contact me for more information and I will be writing more about condos in the Kapiolani corridor in the future). This adds up to just over 8,000 new units whilst projected demand is 3 times this at 25,850 new units needed by 2025.
The take-away – Given the above demand and supply environment, one does not need a crystal ball to see property prices in Hawaii continuing to increase in the foreseeable future except for perhaps some luxury home areas in the near term. The time to buy is now with with interest rates still at historically low levels. If you are in the market, please do not hesitate to contact me: Damon Rhys and I would be more than happy to assist you in your quest to buy or sell a new home or condo.
*** (For more details see article: Condominium Boom Shifts to Ala Moana – Pacific Business News).
_____________________________________________________
Video! – Please check out our newest "60 Second Open House" videos showcasing homes where we are hosting open houses. They allow for a convenient quick look at a home before visiting in person or sharing with someone after attending the open house. Please enjoy and I am sure the quality will get better as we continue to produce our "60 Second Open House" videos. Aloha! Here is the latest link, come check it out!
DISCLAIMER: This is a personal blog/newsletter/post. I disclaim liability for any damages or losses, direct or indirect that may result from use of, or reliance on, any information contained in this blog/newsletter/post, or for the accuracy of comments or opinions expressed by visitors to my blog/post. The information contained herein is deemed reliable but is not guaranteed, and the opinions expressed are mine only and not that of my brokerage firm. Any unauthorized use, modification or copying without written consent is prohibited. Posting or re-posting in entirety on any social media is hereby authorized and encouraged.