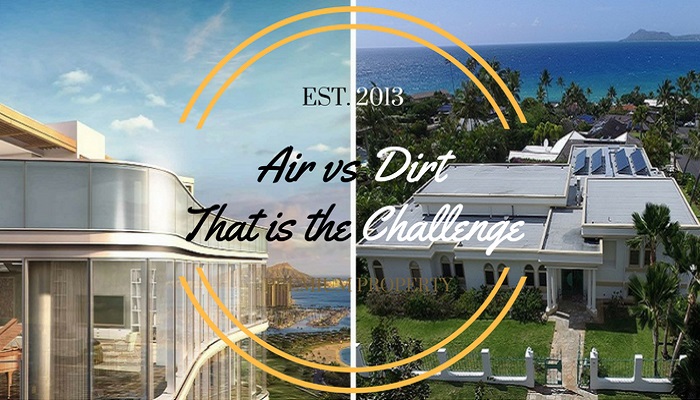 Aloha!
Today's Challenging Real Estate Question: Should I buy a single family home in Hawaii complete with the land and "dirt" it sits on OR should I buy a condo – essentially "air" rights and share the "dirt" the building sits on in a communal setting? 
For various reasons which differ depending on one's situation, "That is the Challenge" which I have made the main topic of this month's newsletter. In Hawaii with limited land mass while at the same time blessed with a beautiful warm climate allowing for an "outdoor lifestyle," the option of owning a condo (air rights plus a % ownership of the land the building sits on) is for some a very viable, convenient and even preferable choice. For others, because of the high cost of property in Hawaii, it is the only option. We'll look at both pricing ends of the market identifying the trends:
Luxury Home vs Condo Market – Interestingly and ironically it is the buyers in this group which have really pushed the pendulum in the direction of luxury condos recently. If anyone could afford to buy a big plot of "dirt" in Hawaii, it would be this group. However and out of convenience, new condominium projects such as Howard Hughes Ward Village – Anaha and Waiea to just mention two with units in the $Ms range – are getting snapped up while homes in the traditional luxury home areas are currently experiencing 16 months of inventory (homes over $1.9M). Obviously much of the demand for Hawaii Luxury Vacation Condos are from wealthy buyers who like the convenience of simply locking the door and walking away for a few months, free of any maintenance worries. However, that is not the only story as witnessed by the excessive inventory of Luxury Homes. Undoubtedly many primary residences (as opposed to vacation homes) are migrating from Luxury Homes to Luxury Condos too.
Will this be the end of Luxury Homes? No, not by a long shot. I firmly predict that the pendulum will eventually swing back to owning a real plot of "dirt" – not all the way but perhaps half way – for some interesting and compelling reasons:
Prices are coming down in many luxury neighborhoods with the % of original price received down to 91% on average for all homes over $1.9M* (See Feb 2017 Stats).
Home prices in the median neighborhoods are increasing at a brisk pace making it a good time for those in a median neighborhood to trade up to a luxury home.
As the inventory of luxury condos starts to dry up, attention will revert back to the traditional luxury home neighborhoods.
Homes will get much smarter in the future with better materials (not so distant future), easier to maintain gardens (trending in near future), computerized lights, acoustics and appliances (available now) – requiring less and less time for the owners to take care of and maintain them**
There will be a growing trend for homes listed on the MLS to include an approximate monthly "maintenance fee" so as to make them more competitively compared to condos. Luxury homes with ligt bulbs numbering in the 100s and almost as many manual switches will make way for smart systems with automated LEDs all controllable from an iPad. Music will automatically wake you in the morning and your cup of coffee will be ready-made when you walk in the kitchen. We will witness high productivity gains in maintaining and living in a large home in the not too distant future.
Median Home vs Condo Market – Unlike the luxury market described above, the story here is much simpler. Prices for both homes and condos have continued to increase at a brisk pace (See Feb 2017 Stats) with Hawaii home values reaching almost 3 times higher than the national US average. The main reason for this is basically demand outstripping supply. According to the Hawaii State Department of Business, Economic Development and Tourism, Hawaii will need approximately 65,000 new housing units by 2025 based on current population and visitor growth and vacancy rates. This breaks down to approximately 25,850 new units needed for the Honolulu/Oahu area alone. According to the Executive Director of the University of Hawaii Economic Research Organization, Hawaii is now at record lows for new home building.***
In the Median Home and Condo market, more often than not – especially in Hawaii, the choice between buying a home and a condo is mostly a mute point at these prices. The question becomes what is viable and affordable and for many that will be a lesser priced condominium. So far in Kakaako there are 11 buildings completed or under construction representing approximately 4,000 new units many of which are Luxury Condos. In the Kapiolani – Ala Moana area there are another 4,000 plus new units projected to be built many of which will be priced in the median range – Hawaii Ocean Plaza and Hawaii City Plaza to just name two (just at or below luxury condo prices – for a full list see *** footnote below). This adds up to just over 8,000 new units whilst projected demand is 3 times this at 25,850 new units needed by 2025***.
In conclusion, for some people the almost maintenance-free lifestyle a condo provides will always be the choice. At the median level in Hawaii, buying a condo may be the only option. For others, home will always mean living in a single family dwelling and owning their own plot of "dirt." However, for a large and growing % of people, perhaps as many as 1/3, either condo or home living could both be viable options. The pendulum, especially for Luxury Home/Condo buyers could swing half-way back to homes as they become smarter and easier to maintain.
The take-away: Given the above demand and supply environment, one does not need a crystal ball to see prices for both homes and condos for sale in Hawaii continuing to increase in the foreseeable future except for perhaps some Luxury Home areas. The time to buy is now with with interest rates still at historically low levels. If you are in the market, please do not hesitate to contact me: Damon Rhys and I would be more than happy to assist you in your quest to buy or sell a new home or condo.
____________________________________________________
Hawaii Real Estate Appreciation, Last 30 Years – Money in The Bank!
From 2015 to 2016 the average monthly median prices increased by 5% and 8.3% respectively for homes and condominiums. Here is a chart showing the median prices starting from 1987 (US$): (click graphic to enlarge)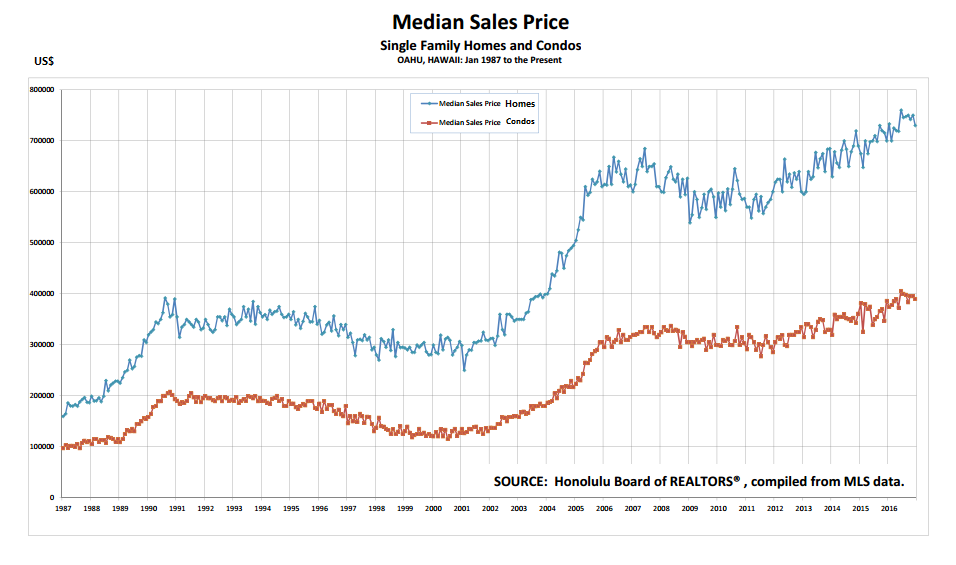 Calculated from all the data in the chart above, the following is the average annual return for both homes and condominiums (APY = Annual Percentage Yield): (click graphic to enlarge)

The average annual percentage yield or average yearly return on an investment from 1987 thru 2016 would have been on average 4.6% for homes and 4.5% for condominiums. By any measuring stick especially compared to other investments such as bonds or equities this yield could be considered very good.
If you are in now or plan to enter the Hawaii Real Estate market, please do not hesitate to contact me: Damon Rhys and I would be more than happy to assist you in your quest to buy or sell a new home or condo. 
Aloha &Stay Tuned!
Damon Rhys
Footnotes: 
*Simple Example – A home with an original asking price of, say, $2,100,000 has, on average, been negotiated down to 91% = $1,911,000.
**Home Automation Hawaii currently offers various smart home packages to transform your current analog home to a digitally automated smart one.
*** (For more details see article: Condominium Boom Shifts to Ala Moana – Pacific Business News).
DISCLAIMER: This is a personal blog/newsletter/post. I disclaim liability for any damages or losses, direct or indirect that may result from use of, or reliance on, any information contained in this blog/newsletter/post, or for the accuracy of comments or opinions expressed by visitors to my blog/post. The information contained herein is deemed reliable but is not guaranteed, and the opinions expressed are mine only and not that of my brokerage firm. Any unauthorized use, modification or copying without written consent is prohibited. Posting or re-posting in entirety on any social media is hereby authorized and encouraged.