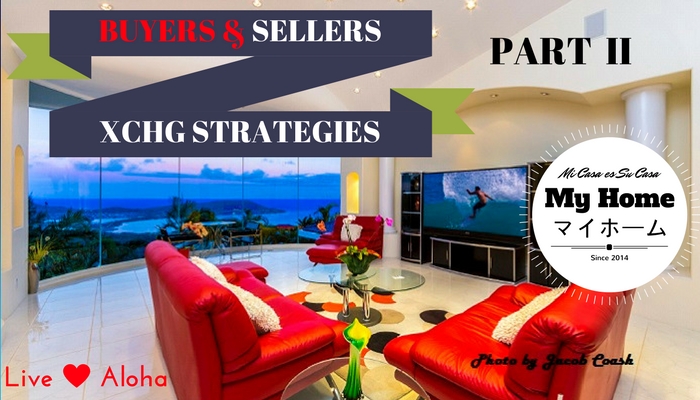 Aloha!
What are the best Strategies for both Buyers and Sellers in our current Real Estate Market in Hawaii? Furthermore, what is the current situation of our market? As stated in last month's newsletter, understanding the fundamentals of the latter question will help us answer the first question. The right strategy will change according to each individual or family circumstances. I will review the main ones e.g. trading up from a median neighborhood to a luxury neighborhood, up-sizing, down-sizing, condo vs single family home, move or renovate, first time home buyer etc. to briefly name a few. I will also provide tips for getting the best fair price for your home if you are a Seller and ways to seek out great value if you are a Buyer. I have divided this Market Strategies topic into 2 Parts focusing on Buyers in last month's newsletter and Sellers this month (apologies for taking an extra week to send this month's newsletter!). Buyers, if you missed last month's newsletter, note that I post the contents of all my newsletters on the blog section of my website. Here is the link to the main article of June's Hawaii Damon Newsletter. Let's first review some important general real estate market info relevant for both Buyers and Sellers. Most importantly let's keep in mind that if your situation is unique and not fitting into one of the broad categories reviewed here, please do not hesitate to reach out to me, Damon Rhys.
(Note: the following section is basically the same as last month so if you already read it please feel free to skip down to the "Seller" section just below or if you are a Buyer use the link above to June's Newsletter)
First, let's look at the current Hawaii Real Estate Market in terms of Buyers' and Sellers' Markets. Presently we are experiencing a tale of two towns in extreme Buyers' and Sellers' Markets conditions. Median priced neighborhoods are hot with prices rising and inventories continuing to fall. The Median Sales Price for a single family home on Oahu was $795,000 (over 3 times more than the US national average) last month (June 2017) representing a 4.6% increase from the same month last year. Inventory dropped to 2.7 months (the amount of time it would take on average for all the homes currently on the market to sell-out) and to put this number in perspective, a healthy balance (neither Sellers' nor Buyers' Market) would be 5-6 months of inventory. Therefore, these Median neighborhoods are squarely in Sellers' Market territory. On the other hand, the luxury home neighborhoods – defined as homes over $1.9M – are looking at 16.2 months of inventory (down from 16.9 months in June 2016 – still high) with an original listing price to average final sales price ratio of 91% e.g. a home originally listing for, say $2,000,000, would have sold – on average – for $1,820,000.
Secondly, before delving into the strategies, let's briefly look at interest rates – an important piece of the puzzle – and where they are now and may be heading. Didn't the Fed just raise the Fed Funds interest rate last week for a total of 3 times from December 2016? Given so, mortgage interest rates should also be increasing, right? Wrong:)! They are actually decreasing again as you can see from the following chart: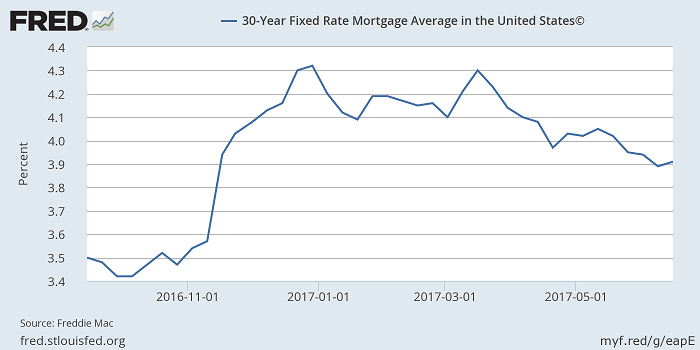 After the initial bump in mortgage interest rates after Trump's election in November, we can see rates falling again from the beginning of 2017 despite the 3 recent Fed Funds interest rate increases. In my Economic Predictions for 2017 – Dec 18 Newsletter I addressed the fear of seeing rapidly increasing mortgage interest rates but predicted we would stay just moderately above 4% average rates for most of 2017. The good news for both Sellers and Buyers is that mortgage interest rates have now actually fallen below 4% with one local Mortgage Lender reporting rates as low 3.635% APR for a 30 Year Fixed (Myers Capital). Why this is actually happening I covered in my previous Kakaako Rising & Interest Rates Falling – April 23rd Newsletter so I will not delve into it here – long term the Fed sets the bottom range of the scale but in the short to medium term the 10 Year Treasury yields set the barometer for mortgage interest rates. Nevertheless, falling mortgage interest rates – at least temporarily – are good for both Buyers and Sellers.
Sellers
First, Sellers are almost always also Buyers. It is wise to know good strategies for Buyers as more likely than not you will be parlaying your sell into another home purchase – either up-sizing or down-sizing depending on your progressing life situation and lifestyle. If this describes you then after reading the following please continue on later by reading June 2017 Hawaii Damon Newsletter.
Steps & Guidelines to Selling Your Home: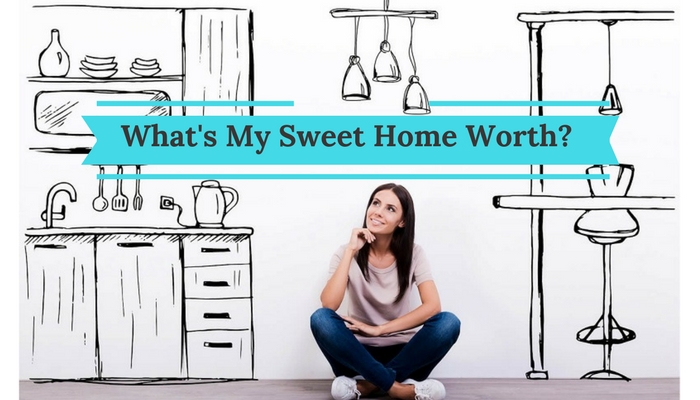 What is My Home's Value? 
I think this is the most fundamental starting point for any Seller. Even if you are not ready to sell it is still good to know the general value of your home/property. I invite you to get a general and free estimate of your home's value by following this link: www.hawaiidamon.smarthomeprice.com. Note that depending on the condition of your home – upgrades, remodeling etc. – your home value could vary accordingly. If you are serious about selling within the next year, please do not hesitate to contact me for a free consultation to better refine the closest approximate value of your home and strategies for getting the best possible fair price.

Will I Be in a Seller in a Buyers' or Sellers' Market? 
This is the next fundamental question and will be a big factor in determining your strategy. Note that the "Goldilocks" zone is 5 to 6 months inventory for any given neighborhood. Currently in Hawaii and Oahu in particular, there is a tale of two completely different towns. In the Median Home range (Oahu median single family home = $795,000 and condo = $400,000) there is only 2.9 months of inventory (basically a hot Sellers' Market) so upgrading/re-freshening may be unnecessary. Assuming carpet, flooring and paint are in a reasonably good condition, a good cleaning and decluttering (I am a big fan of decluttering for optimal showing potential) may be all you need. If you are going for top dollar and want to do anything, a good re-painting and re-carpeting will give by far the biggest return for your $ (next would be the kitchen and then the bathrooms).
In contrast to the Median Home range, the Luxury Home market (luxury Homes defined as over $1.9M for single family homes and $700K for condos), you are in a Buyers' Market – 16.2 months of inventory for single family homes and 9.5 months for condos. In this market you need to stand out from the competition where not only decluttering is a must but also spending some money to re-freshen up your home e.g. new paint, new carpet and if you have popcorn ceilings seriously consider removing them first etc. As mentioned, for a Median Home, re-freshening up your home will get you top dollar. On the other hand, if you are selling a Luxury Home and you do not re-freshen it up first, bottom dollar is all you will get if you can sell at all.
Tip: If you are thinking of selling your Median Home and upgrading to a Luxury Home, now would be a great time to do it.
Luxury Home Sellers
It is a Buyers' Market you are selling into but don't despair, you can still get top dollar for your home. You will have to work a little harder, maybe spend a bit more money and – most importantly – you need to hire the right Realtor. In the video below I will walk you thru the 4 different types of marketing and how important the latter two are – web based and especially niche marketing. I'll let the video do the talking but, in summary, overseas buyers play a very big role in the Hawaii Luxury Real Estate market. There were approximately $1B in real estate purchases by overseas buyers and of those the overwhelming majority, 75% or approximately $750M, were purchased by Japanese. For many properties and especially luxury condos, the probability of the Buyer of your property being Japanese could be as high as 30% or more.
I talk about the 4 types of marketing here and the importance of your Realtor finding the Right Buyer as opposed to Any Buyer: (It is about 10 minutes long and contains important information for putting your luxury home or condo on the market)
Sell My Home As Is Or Remodel First?
As opposed to just an upgrade or re-freshening (or make-over which is how I described it in the video above) which involves mostly paint, changing the carpet and perhaps kitchen and bathroom faucets, remodeling can be a more expensive proposition. It is a similar situation to re-freshening/upgrading depending on whether or not you are selling a Median Home (Sellers' Market) or a Luxury Home (Buyers' Market). If your bathroom and kitchens are really out of date in a Luxury Home seriously consider spending the money to get them looking nice or risk getting bottom dollar. On the other hand if you are selling a Median Home (Sellers' Market) then it may not be worth it, let the new Buyer do the work. Also, the situations differ by case. I was asked by a couple just last week if they should upgrade the Master Bathroom in a Luxury Condo building (it is a very popular building which is in a sort of permanent Sellers' Market located in Hawaii Kai – The Esplanade). I asked how much they were going to spend and the answer was $10K so I said OK but highly advised to not go over $15K. If the building had been in a Buyers' Market (the situation for now for most Luxury Condos) I would have definitely advised upgrading the bathroom first before putting it on the market.
Make-Over Example
For a really good example of an extreme re-freshening (in this case make-over) please check out the before and after videos for a recent listing of mine for a beautiful one bedroom one bathroom condo in Waikiki (same rules would apply for a big single family home). It is in a fantastic location 3 blocks from the beach in the $400K plus range (higher than median) with views of not only the ocean but the famous Queen's surf spot in Waikiki. However, it was really worn out and really needed not just a re-freshening but a make-over as well (re-freshing plus nice staging but short of re-model). Here is the link to my website for the unit: Waikiki Park Heights Unit 1107 and here are the before and after videos: (Yes, the guy in both videos is the same person, me. I got a make-over too:))
Before Make-Over
After Make-Over
Should I Expand/Build-Out My Home or Move? 
Whatever you do, PLEASE do not over-build or over re-model your home. I have some easy rules to follow to determine if you are about to do this so you can seriously reconsider it first. If you over-build or over-remodel your home and plan to move in the future, I would either hold off and stay cozy for a little while longer or simply move now (if you can) rather than later. I always tell my clients it is always better to be the poor kid (under-built) home in the rich neighborhood rather than being the richest kid (over-built) home in the modest neighborhood. If the latter and you spent the money it is likely you will only get a fraction of it back out. Like it or not, the value of your home is mostly determined by your neighbors and your neighborhood and not by how much money you put into your own home. On the other hand, if you are the poor kid in the rich neighborhood and build-out / remodel to reach the median of the neighborhood then the probability of getting everything back that you spent and maybe more is quite good. I dedicated a whole Newsletter to this very topic in May 2017. I called it the the 15% property (land size) 20% indoor (interior SQF size), 10% of home value – rule of thumb and you can find the link here: May 2017 Hawaii Damon Newsletter.
Families & Education
I have a 5 year old son and he will be starting Koko Head Elementary in August. I am not sure when the rest of the state will follow suit but all the public schools in Hawaii Kai have implemented the IB (International Baccalaureat) system now (the last school to implement, Koko Head Elementary for all intents and purposes has implemented IB already and is scheduled to get its accreditation next year). The IB is the same system as many private schools have in town. However, in Hawaii Kai we are talking about the public school system. Also, with the Kalanianaole Hwy contra-flow lane in place, commutes to town in the morning for working parents can be done in as little as 30 minutes. Please check out the August 2016 Blog on my website discussing the IB with links to the official IB website. Education is something to seriously consider when selling your home. If you are considering sending your kids to a private school, another alternative would be to sell and move to Hawaii Kai. The money saved on education could be parlayed into a bigger, more comfortable home. Something to seriously think about.
Trading Up 
Thinking of trading up from a Median Neighborhood to a Luxury Neighborhood? I know many of you reading this letter as my clients are seriously considering this move. Basically you would be selling in a hot Sellers' market getting top dollar for your Median Neighborhood home and buying into a Buyers' Luxury Home Market able to negotiate the best possible Luxury Home price. There is not really much to explain here other than it doesn't get better than this! I would be more than happy to assist you on both sides of this move.
Lastly, full disclosure – My brokerage firm is Sachi Hawaii Pacific Century Properties and our Island is Oahu. Though I am familiar with all neighborhoods on the island, I tend to specialize in East Oahu including condos in Kakaako-Ala Moana-Waikiki to the well known luxury home areas (Kahala, Hawaii Loa Ridge, Portlock etc.) and to Hawaii Kai in the very East (Kailua/Lanikai Windward neighborhoods are also recent areas of interest). That being said, my advice tends to be geared towards the areas of my East Oahu expertise. Nevertheless, when it comes to pricing (determining what would be the best fair price from the Seller's perspective i.e. when I am wearing my Seller's hat) – my quantitative analysis would work anywhere on the planet. Therefore, if you need to know the best fair value of the property you are considering selling is in a neighborhood outside of East Oahu, please do not hesitate to ask.
Did I miss anything pertaining to your particular situation? If you believe so please give me a call!
Aloha – Damon