In the first 3 segments of this Hawaii Overseas Investors' Buying Guide I discussed:
Part I – Perspective Overview – The 9 compelling reasons to invest in Hawaii Real Estate.
Part II – Current Investor Overview – We saw the overall profile of the current investors in the Hawaii Real Estate Market.
Part III – Types of Investment Properties – We looked at the 4 main types of properties that are readily available in Hawaii for investors
Hawaii Real Estate – Appreciation, Last 30 Years
In this final Part IV segment we will simply have a good hard look at the numbers allowing the potential investor to compare buying Real Estate in Hawaii with perhaps other possible investments opportunities. In Part III we saw that from 2015 to 2016 the average monthly median price increase by 5% and 8.3% respectively for homes and condominiums. Here is a chart showing the median prices starting from 1987 (US$): (click the graphic to enlarge)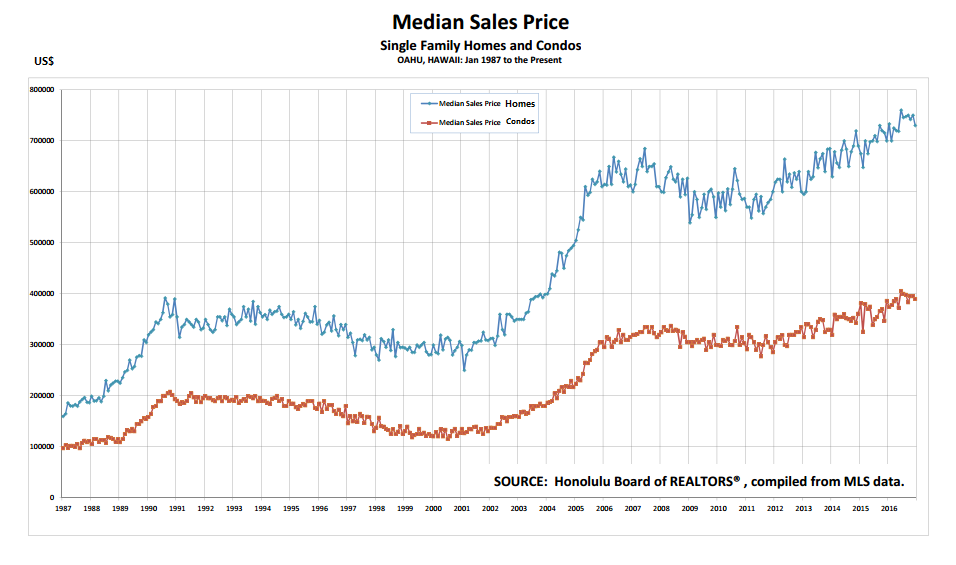 From this data here is the average annual return calculations for both homes and condominiums (APY = Annual Percentage Yield): (click graphic to enlarge)

The average annual percentage yield or average yearly return on an investment from 1987 thru 2016 would have been on average 4.6% for homes and 4.5% for condominiums. By any measuring stick – especially compared to other investments such as bonds or stock – this yield can be considered good.
Capitalization Rate or Cap Rate – The text book definition the Net Operating Income (NOI) divided by the asset price. For Real Estate the NOI would typically be the gross yearly rental income minus maintenance fees and taxes (assuming utilities and General Excise Tax (GET) are paid by the tenant). Divide that by the asset price to get the CAP Rate. For the purposes of giving a real example we will analyze the Cap Rate from rental income for a typical higher end condominium in Waikiki Beach. I have chosen this building and price range as I believe it would be somewhere in the average price range for an investor reading this Investors' Guide.
The building is called Allure Waikiki and though it is definitely a "luxury" condominium it would be on the lower end of "exuberance." As of January 15th, 2016, the median sales price for all of the two bedroom units sold in the last 6 months was US$849,000. For reference I have included the data here:(click graphic to enlarge)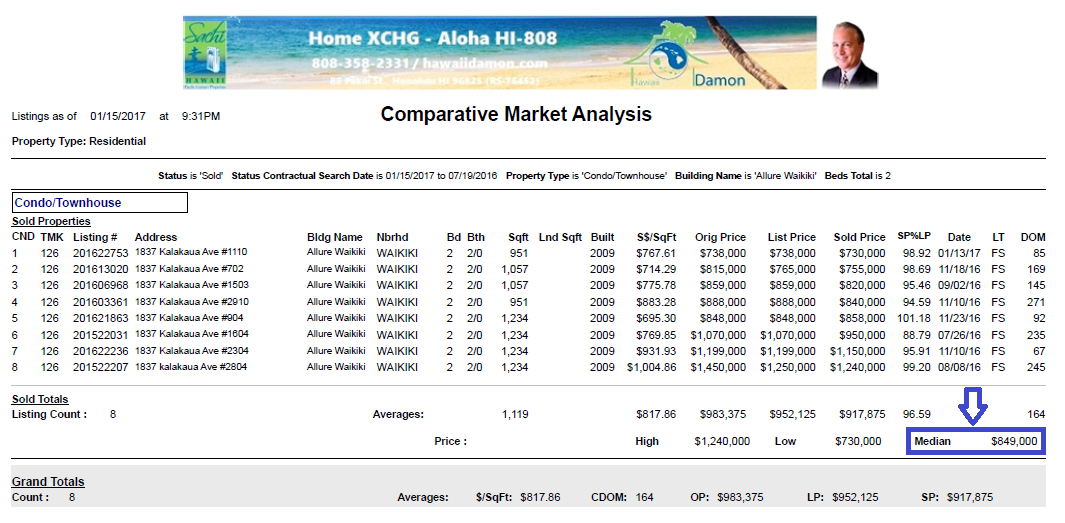 Though this 350 unit building is owner occupied it does have a sizable and competitive rental (let) market. Looking at the two bedroom units advertised for rent as of January 15th, 2016 (there were 4), I picked the median asking rental amount which calculated to be US$4,125 per month. Using these two figures (asset price plus monthly rental (let) income) minus maintenance fees and property taxes we can calculate an accurate Cap Rate for a two bedroom unit as follows:

As you can see the Cap Rate in this average example of a luxury condo (again, on the lower side of exuberance) is 3.9%. If asked if I could do better for my clients than 3.9% for this particular building. I would definitely say, "Yes" as I think with more research and diligence I could negotiate a lower price on a unit with a somewhat better view translating to higher rent. However, that being said, a Cap Rate of say, 5%, would probably be the maximum for this particular building.
Being conservative and assuming the lower lower Cap Rate of 3.9% on rental income for this building, it is certainly better than the yield on a US 10 Year Treasury Bond (current yield as of this writing = 2.39%). Furthermore, if you combine it with the earlier calculated APY (Annual Percentage Yield for real estate appreciation in Hawaii) which has been 4.5% average per year over the last 30 years, you then get 3.9% (Cap Rate) + 4.5% (APY/appreciation) = 8.4% which could be considered a good return and investment.
Lastly, please note there are approximately 40 condominium buildings in just the Waikiki Area alone (next to Waikiki is the also famous Ala Moana area followed by Kakaako where most of the new projects are being built). They come in a wide variety of styles, price ranges, rooms and ages from the budget to the super luxury accommodating just as wide of a variety of people. Be it Buyer or Renter, there are many options to choose from. For all my investor clients I run the same numbers as I have done for the Allure Waikiki in the sample above for any building or condominium they may be interested in.
Allure Waikiki – Current Listings
Condotel Cap Rates – As discussed in Part III there are many very good reasons why an investor would go with a Condotel. The main one being that an investor can stay in their own Condotel whenever they come to Hawaii while having the convenience of leaving their unit in the Hotel "pool" while they are away. For a fee the hotel will manage the room and, for all intents and purposes, it becomes part of the hotel being booked out by nightly guests. The owner has the benefit of the rental income while not having to enter into longer term rental agreements with tenants.
Let's have a look at the typical numbers from a higher end Condotel and perhaps the most famous in Waikiki, Trump International Hotel & Tower Waikiki. Here is the income statement for unit 17XX that was purchased in 2011 for US$1,734,000. It is a 1,128 FT (104.8 M) one bedroom unit. Here is the income statement for the month of July 2016 showing YTD (year to date) income and expenses:(click graphic to enlarge – for privacy purposes the unit number and owner name has been blocked out).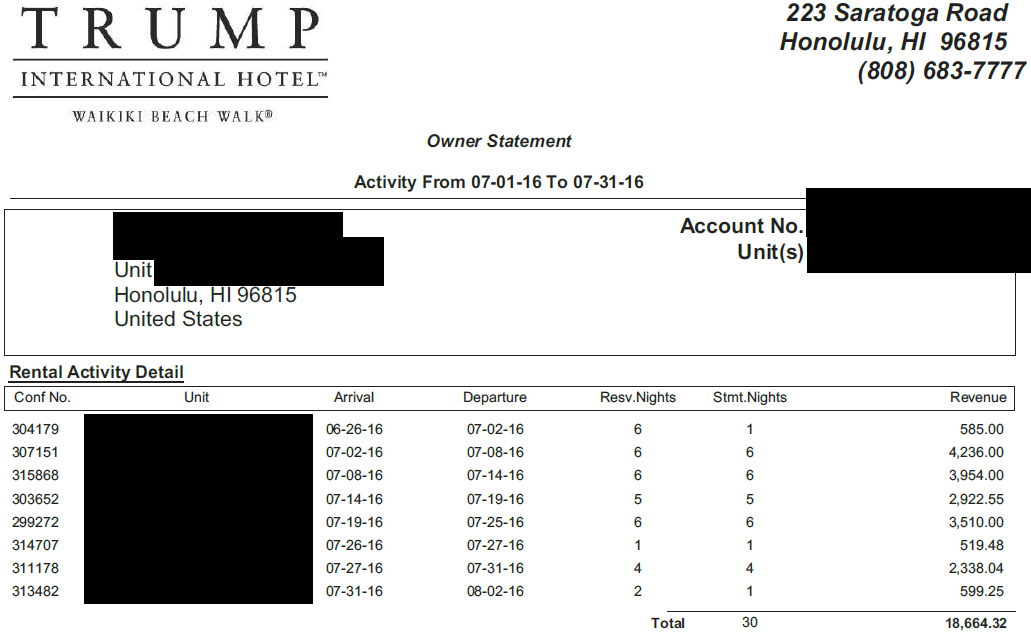 Here is now what the Cap (Capitalization) Rate looks like for this unit after doing the calculations, subtracting out property taxes and maintenance fees from rent:

As you can see for 2016 the Cap Rate is a mere 1.5% for this unit in Trump Tower. If your priority is a luxurious place to stay a couple or a few times a year in Hawaii heaping with lavish exuberance complete with impeccable service and all the bragging rights of owning a unit in Trump Tower, then this is your home sweet 2nd home!:) Some people love the fact they can own this gem of a property in Hawaii and cover all the expenses (maintenance fees, taxes etc.) by having the Trump Hotel manage their room when they are not there. However, if you are looking for overall ROI (Return on Investment), good Cap Rate and APY on property appreciation, I would not recommend Trump Tower. In fact, there are many other Condotels covering a wide range of prices – same as for condominiums – that would be much better investments in terms of ROI, higher Cap Rates and APY on property appreciation. For all my investor clients I do the same analysis as above for any Condotel they may be interested in. Depending on what you want (lapping in luxury or ROI or a bit of both), I can make recommendations and will, of course, make a complete analysis for you to make the right and informed decision.
Buyers' & Sellers' Markets, Absorption Rates & Inventory
As of this writing (January 2017), most of the island of Oahu Hawaii is experience somewhat extremes of both Sellers' & Buyers' Markets. Median neighborhoods are experiencing a Sellers' Market whilst the luxury home and condo areas are in a Buyers' market. For those currently owning a home or condo in a median neighborhood looking to trade up to a luxury home or condo, now would be the perfect time. This would be the same, propitious time for overseas buyers looking for good deals on luxury homes and condos. In Hawaii asking prices in a Buyers' Market are negotiable in almost all cases. For a complete and in-depth analysis including an explanation of Absorption Rates and Inventory (5 months is consider the "Goldilocks" zone, neither Buyers' nor Sellers' markets) please refer to the following articles I wrote in October 2016:(no change since then)
BUYERS OR SELLERS MARKET? PART 1 – ABSORPTION RATE IS THE KEY! OCT 2016 BY DAMON RHYS
And
BUYERS OR SELLERS MARKET? PART 2 REAL ESTATE MARKET CYCLES BY DAMON RHYS
To conclude this Overseas Investors' Guide, I would just like to say that Hawaii is truly a magical place with a wide range of geological zones and climates across the 6 main islands. Most areas are just the perfect habitable temperature for most people but snow can also be found on the highest peak of the Big Island, Mauna Loa. City or Town or Country life can also be found or a combination of all within a short car drive's distance. There is something for just about everyone in Hawaii, the Islands & City of Pacifica!
Please do not hesitate to contact me for your real estate needs in Hawaii. If you are an overseas buyer thinking your are ready to move forward with investing in Hawaii, there is a lot of preparation work we can do before you get here – I can send you links for potential properties to look at and do analyses – to make your acquisition as smooth as possible.
Aloha!
Damon Rhys