GREAT VALUE OAHU KAHALA LUXURY HOME & WAIKIKI TOWNHOUSE SEMI-LUXURY CONDO IN WAIKIKI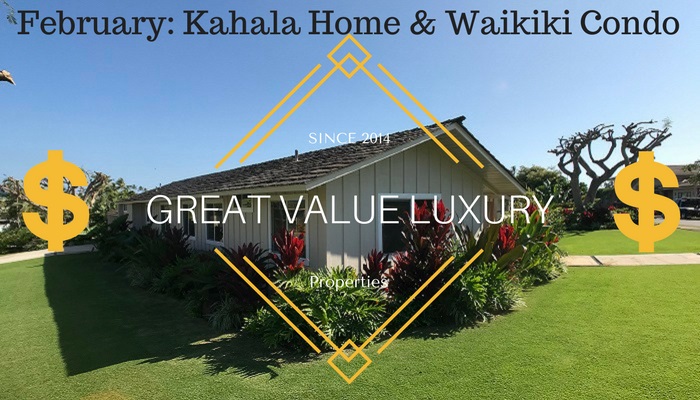 Welcome to the February 2018 edition of our Great Value Hawaii Luxury Real Estate! 
We feature both Homes & Condos which we think offer especially great value for potential Buyers. Presently most of the luxury home neighborhoods on Oahu are experiencing Buyers' Markets (defined as having more than 5 months of inventory currently on the market) with average inventory levels at 13.9 months for homes over $1.9M in Oahu luxury home neighborhoods (see Latest Oahu Hawaii Real Estate Statistics). Prices are decreasing (final sales prices for luxury homes are on average approximately 8-9% less than the last listed MLS asking prices*) making it a great time for Buyers to find good value properties in these neighborhoods. Both of February's properties offer really great value.
The first property we showcase is a luxury home in Kahala.  As of this writing there is 7.5 months of inventory on this particular and prestigious luxury home neighborhood putting it in Buyers' Market territory (neutral is about 5 to 6 months, below that would be Sellers' Market). Note that in November 2017 there was almost 8 months of inventory so the trend is now downwards slowly moving towards a neutral market in Kahala.
The second property showcased here is the conveniently located and semi-luxury Waikiki Townhouse building in Waikiki.  The building allows short term vacation rentals making it a lucrative buy as an investment property. There are currently 5 units on the market and recently unit #2403 sold for approximately $395K (in escrow now, will know exact price after escrow closes).  Unit 2002 just came on the market for $375K making this a good value proposition property for an investment.
Kahala Luxury Home:
659 Onaha St
Value Features:
Price $2,595,000 (tax assessed value is $2,426,000), great Kahala entry level home.
Sprawling corner ~14,000 SQF lot in a quiet nook of Kahala.
Completely remodeled top to bottom in 2017.
6 Bedrooms and also has a separate pool house with wet bar.
Single story home with approximately 2,700 SQF living area.
Stunning curb appeal with large grassy set-backs anchored by gorgeous trees, and tropical landscaping.
Home architectural style is a beautiful Hawaiiana-Ranch style.
Onaha St is quiet but conveniently located just a few blocks away from Kahala Mall for dining and shopping.
This polished gem of a home and at this price represents a good opportunity for an entry level home in the prestigious Kahala Luxury Home Neighborhood.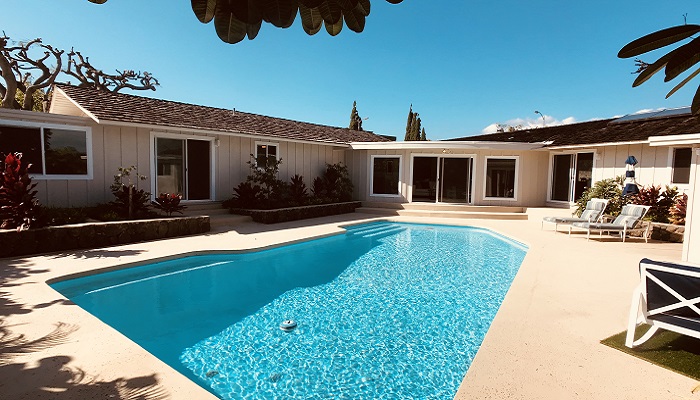 Waikiki Semi Luxury Condos: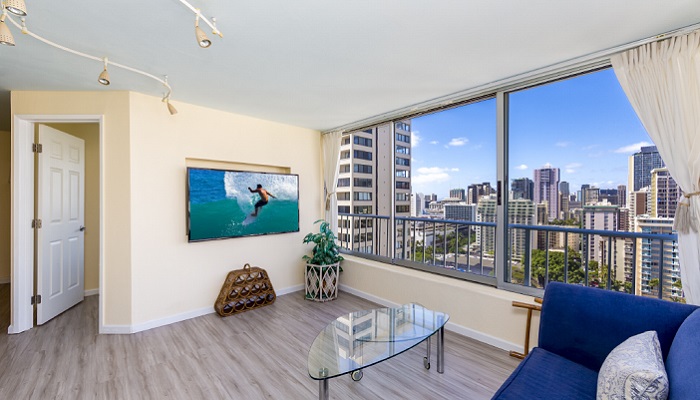 Waikiki Townhouse (all units)
Unit 2002 Value Features:
Listed at a very affordable $375,000
Corridor ocean views from many of the higher floor units along with fantastic city and night views.
Building allows short term vacation rentals making it a good investment property for investors.
Remodeled in 2018, originally 1 bedroom but converted to a 2 bedroom.
Within a few minutes walking distance of Waikiki Beach.
Conveniently located in the heart of Waikiki nearby a plethora of dining and entertainment venues.
Relatively low maintenance fees at around $765 (special assessment for spalling repairs will be upcoming)
Built in 1980 reaching 47 years which is the age of a building Japanese investors look for maximum depreciation (increase in demand for the building would cause prices to increase)
With short term rentals allowed in this building this semi-luxury condo makes for a great investment for the savvy investor or move-in ready convenient urban-beach living.
If you would like to know more about these properties please contact me (Damon Rhys) for more information. Disclosure: Some properties in this section may be listed by the brokerage firm I work with, Sachi Hawaii. My goal is to give my unbiased opinion on great value Hawaii Real Estate for all brokerage firms on Oahu. In this month the two featured properties here are listed by Sachi Hawaii.
Please check out this site's easy to use Search Tool to find current listings of Hawaii Real Estate now on the market. Homes for sale in Oahu and Condos for sale in Honolulu (Waikiki, Ala Moana, Kakaako, Hawaii Kai etc.) can all be found here using the Hawaii Condo Search or Hawaii Home Search tools.
Aloha!
Damon Rhys