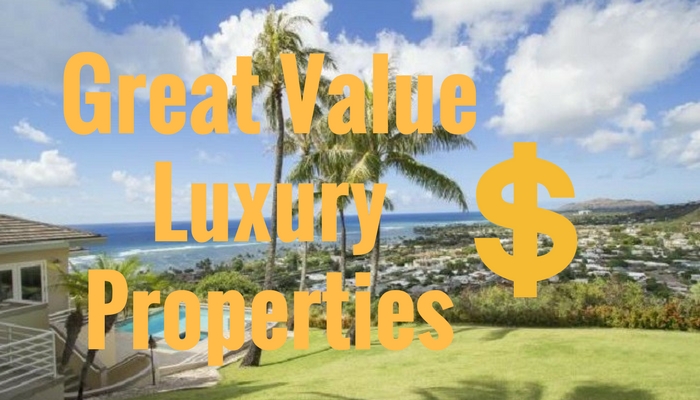 Welcome to the most popular section of our monthly Hawaii Damon Newsletter / Blog Great Value Hawaii Luxury Real Estate! Currently most of the Luxury Home neighborhoods in Oahu are experiencing Buyers Markets (defined as having more than 5 months of inventory currently on the market) with average inventory levels at 16 months for Oahu luxury home neighborhoods (see Latest Oahu Hawaii Real Estate Statistics). Prices are decreasing making it a great time for Buyers to find good value properties in these neighborhoods. As mentioned before in my previous Blogs / Newsletters, if you currently own a home in a median neighborhood, now we would be a propitious time and opportunity to trade up to a luxury home. Most median neighborhoods are in extreme Sellers' markets (complete opposite from luxury home neighborhoods) with prices rapidly increasing. Selling your home in a median neighborhood and trading-up / buying in a luxury neighborhood would be a wise decision. In this section I will feature Hawaii Luxury Real Estate, both Homes & Condos which I think offer especially great value for potential Buyers. This month features 2 properties; one home on Hawaii Loa Ridge and one condo building in Waikiki.
Hawaii Loa Ridge Home: 
267 Kaialii Place
Value Features:
Price $4,980,000
Asking Price Below Tax Assessed Value ($5,669,000)
8,434 SQF Interior (including covered lanai) & 28,868 SQF Land
Split level with 3+ floors
Conveniently located on lower portion of Hawaii Loa Ridge
Spectacular 180 Degree Ocean Views from Diamond Head to Koko Head.
Waikiki Allure Waikiki Condominiums:
As of this writing there are 16 units on the market some with good value and Unit 2103 offers exceptional value.
Value Features:
Price $899,000
Diamond Head / Ocean View
Higher 21st Fl.
2 Bedroom Unit (3 Bedroom units also available)
1,145 SQF of indoor floor space including covered lanai very spacious condo living
Conveniently located in the West side of Waikiki
This relatively newer building was built in 2009 and is well managed with reasonable maintenance fees (approximately $925/month – 2 bedroom)
With many owners selling to buy in Kakaako, prices in this building are temporarily decreasing.
Great value luxury condo buying opportunity in classic Waikiki!
If you would like to know more about these properties please contact me (Damon Rhys) for more information. Disclosure: Some properties in this section may be listed by the brokerage firm I work with, Sachi Hawaii. My goal is to give my unbiased opinion on great value Hawaii Real Estate for all brokerage firms on Oahu. In this month both properties featured here are not listed by Sachi Hawaii.
Please check out this sites easy to use Search Tool to find current listings of Hawaii Real Estate now on the market. Homes for sale in Oahu and Condos for sale in Honolulu (Waikiki, Ala Moan, Kakaako, Hawaii Kai etc.) can all be found here using the Hawaii Condo Search or Hawaii Home Search tools.
Aloha!
Damon Rhys