Oahu Hawaii Real Estate Statistics & Analysis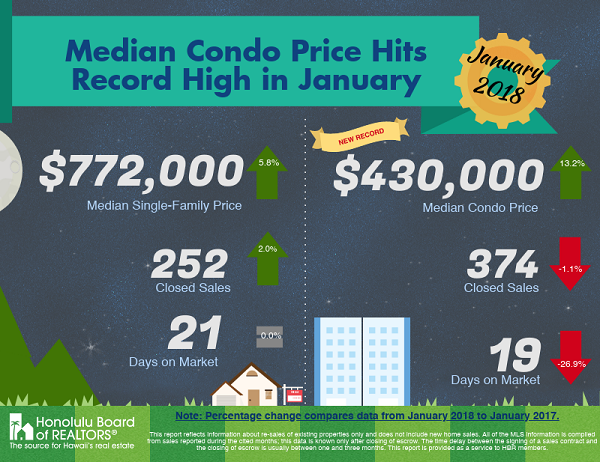 Aloha! 
Here are the February 2018 (January Data) Oahu Hawaii Real Estate housing statistics courtesy of the Honolulu Board of Realtors – Hawaii Housing Stats, Jan-2018. In 2017 we witnessed the housing market on Oahu break some records. In January 2018 we continued breaking records. This time the median condo price reached $430,000 in January 2018 breaking the previous record set in July and September of 2017 at $425,000. Lofty single family home prices – now at approximately 3 times median US prices – are continuing to drive the sales of alternatively more affordable condos. In Summary:
Overall Oahu Real Estate Sales have increased by 2% and in January for Single Family Homes while decreasing by 1.1% for Condos compared to the same month last year. Likewise, the YTD (Year-To-Date) data would be the same with only January data so far. Again, it shows an overall sales increase of 2% for Single Family Homes along with a decrease of 1.1% for Condos compared to last year. The overall combined trend is upward.
Median Oahu Real Estate Prices have increased by 5.8% and 13.2% respectively for Single Family Homes and Condos compared to the same month last year while YTD median prices would be the same with only January data so far. Again, it has increased by 5.8% and 13.2% respectively. The overall trend is upward (the notable exception would be the Hawaii luxury homes areas).
Oahu Real Estate DOM (Days on Market) YTD (Year-To-Date) indicator remained the same for Single Family Homes averaging 21 days for both January 2017 and 2018. YTD DOM for Condos has decreased to 19 days compared to 26 for last year. (Note that Luxury Home areas are still experiencing large inventories – avg. 14.3 months but dropping from 16.8 months a year ago for homes over $1.9M – though definitely and finally decreasing, we are still in extreme Buyers' Market territory for some of these Oahu Luxury Home neighborhoods).
For the detailed report with a breakdown by neighborhood please see: Oahu Neighborhoods Real Estate Statistics (Jan 2018 Data). Please note that the overall stats for Luxury Homes in Hawaii are very different from that of the Median Home Areas whereas Luxury Home inventory – though coming down- is still high pushing downward pressure on prices in those neighborhoods i.e. Buyers' Market (Median Home areas are Sellers' Markets).
Hot Tip – If you are thinking of upgrading to a Luxury Home from a Median Home, now would be a great time to sell your current home and upgrade to a Luxury Home neighborhood. Please call me for details.
Please check out January's newsletter's very important article: Tax Reform vis-a-vis Hawaii Property Prices and Your Bottom Line. If you have a family, school and education should be a priority so please do not miss February's: Best Schools on Oahu – Private vs Public & Property Values. For more information about whether your neighborhood is in a Buyers' or Sellers' Market (or if you are a Buyer – the neighborhood you are interested in) please check out my previous blog/newsletters here: Buyers' or Sellers' Market? Absorption Rate is the Key  and The Latest Buyers & Sellers Market Data on Many East Oahu Areas – Know Before Buying or Selling!
For more analysis of what all this means for Real Estate in Hawaii in 2018 – including tips and marketing strategies for both Buyers and Sellers – please check out my June Newsletter (focus on Buyers) and July Newsletter (focus on Sellers). August Newsletter showcased the Ward Village Condo development! In the September Newsletter we learned how to calculate CAP (capitalization) rates for your investment. October's Newsletter showed inventory figures for 8 popular Luxury and Semi-Luxury home neighborhoods in East Oahu! Thesee and other months' newsletters can be found on the Blog section of my website: hawaiidamon.com/blog
Please check out this site's easy to use Search Tool to find current listings of Hawaii Real Estate now on the market. Homes for sale in Oahu and condos for sale in Honolulu (Waikiki, Ala Moana, Kakaako, Hawaii Kai etc.) can all be found here using the Hawaii Condo Search or Hawaii Home Search tools.
Aloha!
Damon Rhys