Aloha & Happy Valentine's!
Knowledge is Wealth!
So are schools, especially exceptional ones, and if you happen to live near one the value of that learning institution is no doubt built into the price of your home. Think of Manoa, near the University of Hawaii which boasts of some of the oldest standing homes on Oahu and with a median sales price of $1,249,000 (data: Manoa, Upper, Lower neighborhoods, sold over the last 1 year period as of the date of this newsletter). For the parents of most children, having a great school nearby where they reside can save enormous amounts of transport time over a 12 year period (Kindergarten thru 10th grade when most start driving would make it 11 years of transportation) – not to mention having school friends nearby in the same neighborhood also has a lot of benefits. Again, most educational institutions are older so the value of having a good educational institution nearby is most likely already priced in to your home's value. However, when schools go through a dramatic educational platform change – with the right mix of properties and demographics in the neighborhoods around such schools – it could profoundly affect the demand and thereby value of the homes within the immediate vicinity. This phenomenon is actually occurring right here in a certain area of Oahu and most of the lucky parents who are currently sending their children to these schools (hint: they are public) do not realize it. For families intending to move in the near future, this information is absolutely invaluable. To "learn" more (pun intended) please read on!
Oahu Private Schools
First let's briefly talk about private schools in Hawaii and, specifically, Oahu. Hands down Oahu has some of the best private schools in the country that money has to offer. If your family is fortunate enough to have abundant financial resources then sending your child to one of these schools will give him/her one of the best educations along with also providing an all but sure gateway to a first rate University. Though not intended to be a comprehensive review of private schools on Oahu, here is a brief summary on the big 3 and a few others: (if the school your son or daughter attends is not shown here, please do not take offence, there are many others – too long to review in this brief newsletter, the purpose of which is to merely compare with some exceptional public schools which I will delve into later.*):
The Big Three:
1) Punahou School (K thru 12)- It has 3,750 plus students and is the largest single campus private school in the US. An education here is exceptionally first rate and boasts of having former US President Obama as its most famous alumni. Current tuition for 2017-2018 year is $23,850.
2) Iolani School (K thru 12) – This is the biggest rival of Punahou, also provides an exceptionally first rate education. Most graduating from Iolani go on to continue their educations at the best universities. It is about half the size of Punahou with around 1,800 students. Current tuition for 2017-2018 year is $22,550.
3) Kamehameha Schools (PreK thru 12) – Also offers a fantastic education and has various campuses. Tuition varies depending on campus location and school boarding; $4,374 – $9,551. Financial aid is available. Entry is limited to children with at least some Hawaiian ancestry.
Some examples of other great private schools: (there are many others, this is not meant to be a comprehensive list)
1) Mid-Pacific Institute (Manoa, COED Grades PreK thru 12). Excellent school rivaling the big 3 with 1,570 students. Education platform is the IB (International Baccalaureate), focusing on developing the skills required to succeed in a future global and diverse economy. Tuition is $23,185.
2) Le Jardin Academy (Kailua, COED Grades PreK thru 12). A smaller version of Mid-Pac with 824 students. Tuition is $20,875. It is also an IB (International Baccalaureate) accredited school focusing on developing the skills required to succeed in a future global and diverse economy (same as Mid-Pacific).
3) Damien Memorial School (Kalihi, COED Grades 6 thru 12). Tuition is $13,625. Religious affiliation is Roman Catholic, Edmund Rice Christian Brother Education. Most students continue to higher education.
4) La Pietra (Diamond Head, Girls Grades 6 thru 12). Tuition is $18,900 with no religious affiliation. First rate with most young women graduating from here continuing on to the best universities.
Not including Kamehameha Schools, the average yearly tuition of one of the above mentioned schools is in upwards of $20K per year. Over a K thru 12 educational period (13 years) not including inflation, this would equal $260,000 per child, just over the cost of a median priced home outside of Hawaii (Oahu current median price $750K – see stats, last article of this newsletter). No doubt a first rate par excellence education – with a formidable price tag!
Why Do Many Parents Choose Private Schools? 
The main reason most parents with abundant financial resources will say they send their children to private schools is to assure their children of a first rate education allowing them to further their education also at a first rate college or university. This is most often the key to a successful and financially sound future for their own future family. In so many different words, the basic principle being professed is "Knowledge is Wealth" and to that ends a private school education is the sure bet means. Let's now look at some very good public schools.
Oahu Public Schools Revolution in Hawaii Kai** 
Now enter the IB (International Baccalaureate) curriculum / teaching system having arrived relatively recently at public schools in Hawaii Kai**. The IB System itself has been evolving now for 50 years leading to spectacular results in over 150 countries around the world that have implemented the system. Note that two of the well known private schools listed above are also IB accredited schools. Jeffrey Shitaoka, Principle of Koko Head Elementary in Hawaii Kai explained the accreditation from IB World Schools as being a rigorous process. Schools can take years to go thru the whole process from initial planning to conversion and implementation and then to final recognition (accreditation). In a previous newsletter I wrote more about the curriculum / teaching system which can be found both here  IB (International Baccalaureate) and at the IB Organization Website itself so will not delve into it too much here other than repeating what I wrote in the descriptions of the 2 above mentioned private schools. The IB Education platform focuses on developing the skills required to succeed in a future global and diverse economy. Here is a list of Hawaii Kai schools that have already received IB accreditation and or are expected to receive it this year:
1) Hahaione Elementary School (IB accredited)
2) Kamiloiki Elementary School (IB accredited)
3) Koko Head Elementary School (IB implemented but not yet received accreditation – visit by IB World School Officials to take place in April 2018, expectation to be IB accredited by start of next school year, August 2018)
4) Niu Valley Middle School (IB accredited)
5) Kaiser High School (IB accredited)
Will these Hawaii Kai schools really be on the same level as the more expensive private schools?
At a tuition of $20K plus per student at private schools whilst these public schools are being funded (for the most part) by tax dollars, it is hard to imagine how a public school such as Koko Head Elementary could compete with, say, Punahou K thru 6. However, Principal Jeffrey Shitaoka of Koko Head Elementary states, "My primary purpose is providing the best possible education for Koko Head Elementary students." By really focusing on the core subjects and implementing the IB System, to a very competitive degree, it allows these public schools to compete on a pure scholastic level with the private schools. Enthusiastic teachers combined with an excellent IB Curriculum and loving encouragement from parents are the keys to a successful education in this public school system. Get this combination right and the sky is the limit for any hard working student going thru this public school IB System who has his or her sites focused on higher education in the best universities and colleges.
Though these public IB schools could be considered somewhat "spartan" compared to their private counterparts lacking in extra-curriculum programs and activities, private groups are helping to fill the gap. Friends of Koko Head is one such fund raising group (donations mostly from parents of children at Koko Head Elementary) helping to pay for many of these extra-curriculum items that help provide for a well rounded school experience. This particular school, Koko Head Elementary, located near the wealthy luxury home neighborhood of Portlock, no doubt has many children whose parents could easily afford a private school education. However, by sending their children to this nearby public school (as opposed to spending 1 hour plus daily commute times to private schools in town) they are at least guaranteed a first rate core education. The savings in tuition allows for quite a lot of "a la carte" outside of school classes i.e. private tutoring, piano, swim, language lessons etc.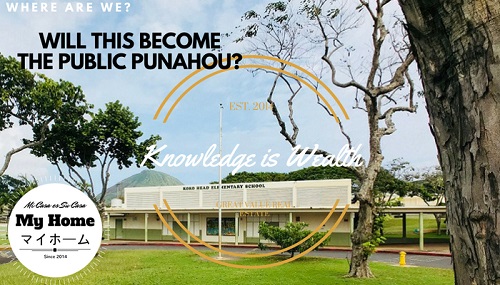 How could this affect property prices in Hawaii Kai?
The public school revolution occurring in Hawaii Kai could still be considered a secret. This author actually has a 6 year old in Kindergarten at one of these schools and can testify that most parents he has spoken with did not know anything about the fundamental benefits of the public school adopting the IB System. To answer the above question, there is no doubt that the IB System in the schools in Hawaii Kai will create higher housing demand for the area which will add pressure on prices.  In the median priced neighborhoods of Hawaii Kai such as Koko Head Terrace and Hahaione one would expect homes there to sell as quickly as, say, Aina Haina which is closer to town. This not being the case could very well change in the coming years. For the luxury home areas of Hawaii Kai such as Portlock, Koko Kai, Triangle and Napali Haweo – as an active realtor in these areas – I can say we are seeing more interest from families that normally would have not considered Hawaii Kai being further away from town than the other luxury home neighborhoods such as Kahala, Diamond Head and Hawaii Loa Ridge. However, now with the option of sending their children to a local public school with the first rate IB System instead of commuting to a private school in town, it changes the whole equation to giving some serious thought about the public school option and living in Hawaii Kai.
The Take Away – It is possible now to send your children to an IB accredited public school in Hawaii Kai** and expect a first rate education. Albeit the parents will no doubt have to also put in more effort in the form of extra-curriculum planning and the help in funding such activities. Whilst the private schools should be considered an almost "turn-key" educational program, these public IB schools, though not "turn-key," should be able to provide an excellent core education. Extras will have to be "a la carte."
Conclusion – Be it a first time home buyer, family relocating, trading up or down, or as an investor – it is really a great time to be in the Hawaii Real Estate Market. Interest rates are still historically low. If you are a family and are considering educational options I am sure this article will provide a lot of food for thought, having options are always good. If now considering Hawaii Kai, it is a big area and there are a lot of choices for families ranging from generously sized 2 bedroom condos in the $500K range to multi million dollar homes in the prestigious luxury home areas (Portlock etc.). The above mentioned school, Koko Head Elementary, straddles several neighborhoods in Hawaii Kai including West Marina (~600K condos) and Koko Head Terrace (single family homes in ~800K plus range) on one side of Kalanianaole and Portlock, Koko Kai (luxury home neighborhoods) on the other.  Please do not hesitate to contact me for any details regarding these areas (please check out the 120 Hanohano and 123 Anahola 60 Second Open House Videos – both of these homes are in Hawaii Kai!)
Finally, if you are currently in a median neighborhood in Hawaii (Sellers' Market) and are thinking of trading up to a luxury neighborhood (Buyers' Market), it does not get any better than this. If you are an off-shore buyer, Hawaii is an investment paradise. If you have any questions regarding real estate strategy please do not hesitate to contact me as it would be my pleasure to serve you in your Hawaii Real Estate needs. Please pass this newsletter along to any friends and family or they/you can sign (them) up here.
Happy Valentine's & Aloha!
Damon